Tera Term Pro 2.3 & Tera Term 1.4
Wed, 08/05/2009 - 13:56

—

CNC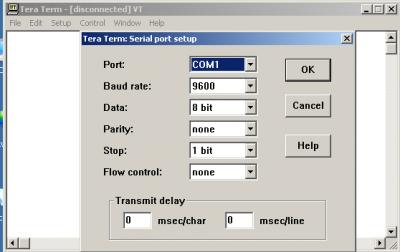 Publishers Description
Serial ports larger than COM4.
Baud rate of 14400.
Macro operator "%".
Macro: a comment can be placed in any line.
Pass-through printing directly to a port
Special options in the setup file "AutoFileRename", "BackWrap", "Beep", "EnableStatusLine", "MaxComPort", "PassThruDelay", "PassThruPort", "PrnConvFF", "RussPrint" and "TitleFormat".
New [Setup] TCP/IP dialog box.
History list of hosts.
New Russian character sets (CP 866 and ISO 8859-5).
New icons.
Selecting text in a rectangular region.
Executing menu commands by user defined keys.
Tera Term extension interface.
Tera Term Pro is a free RS232 software terminal emulator
(communication program) for MS-Windows. It supports VT100 emulation, telnet connection, serial port connection, ethernet and so on. They also offer Tera Term ver. 1.4 for Windows 3.1 for anyone using or needing a RS232 Communications program for older versions of Windows. It appears its only supported for win95 win98 and NT though it seems to function on XP when we tested it. There is no support since its free so use at your own risk.
As of this writing last Rev was in 1999 so here are some of its capabilities from There site